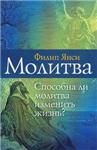 Much has been written about prayer. About her many read, but in the light of the very few people who are satisfied with their life of prayer. Author is taken to investigate the question: what prayer is and to whom it is necessary first of all - us or God?

The book is addressed to a wide range of readers - both believers and non-believers.
Zip-archive, which is the book format .exe; to open You do not need third-party applications. God's blessings to you and happy reading!