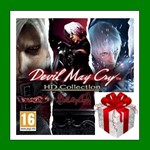 Devil May Cry HD Collection - Steam Key - RU-CIS-UA

Warning: game can be activated only in one of the following countries: Russian Federation, Armenia, Azerbaijan, Belarus, Georgia, Kyrgyzstan, Kazakhstan, Republic of Moldova, Tajikistan, Turkmenistan, Ukraine and Uzbekistan.

ATTENTION!!! You can activate the key in another country using Russian VPN or proxy.
After activation you can play without VPN.

Devil May Cry HD Collection - Steam Key - RU-CIS-UA

Новинки и популярные игры:

Far Cry 5 - https://goo.gl/s98Hxg
Warhammer: Vermintide 2 - https://goo.gl/G7PWz3
FINAL FANTASY XV WINDOWS EDITION - https://goo.gl/cSrexR
Kingdom Come: Deliverance - https://goo.gl/oNZF4n\
Subnautica - https://goo.gl/9jtu6W
Call of Duty: WWII - https://goo.gl/Fsbr5v
Tom Clancys Rainbow Six Осада Siege - https://goo.gl/gbbVrK
PLAYERUNKNOWN´S BATTLEGROUNDS - https://goo.gl/b95aIh
Random Steam Key - почти ДАРОМ - https://goo.gl/5GR66N
Counter Strike Global Offensive - https://goo.gl/Ztg1L5
Terraria - https://goo.gl/3l5IVG
Rust - https://goo.gl/nkPDtd
Garry´s Mod - https://goo.gl/DsRmju
Rocket League - https://goo.gl/iL8K7F
Conarium - https://goo.gl/jiv8nm
Rising Storm 2 Vietnam - https://goo.gl/ljgCxx
Dawn of War III - https://goo.gl/CW8SwM
Euro Truck Simulator 2 - https://goo.gl/DEqqoC
Euro Truck Simulator 2 Scandinavia - https://goo.gl/Q4CKRo
Arma 2 II Операция Стрела + Arma II - https://goo.gl/lZcaAD
Tom Clancy's The Division - https://goo.gl/uagNq9
DARK SOULS 3 - https://goo.gl/M6axnJ
Dark Souls Prepare to Die Edition - https://goo.gl/3QZTz1