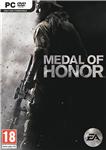 Medal of Honor - a unique opportunity to take part in combat operations on the territory of modern Afghanistan.


These soldiers have no equal. They are - professionals - the best of the best. How many of them - is not precisely known, but hardly more than a few hundred. They report directly to the command of US Special Operations Forces. They are referred to in the hottest point and assign tasks to successfully execute that beyond the power of anyone else. They - the elite troops Tier 1 Operators.

***

Introduced in the game single player campaign was developed in close cooperation with the veterans and current members of the division Tier 1. It is based on real events, which told the participants. It is thanks to these people the authors Medal of Honor could accurately recreate the atmosphere of modern war. In the role of elite soldier Tier 1, consisting of one division of the US army the player will fight against the forces of "Taliban" and "Al Qaeda" in the harsh Afghan soil.


Multiplayer mode Medal of Honor designed by world famous studio DICE, which created the famous series Battlefield. In these brutal battles, each player will have to survive, relying only on their own strength.
Please pay attention:
1.Klyuch not designed to activate in Steam, it is designed to activate EA Origin!
2.Klyuch has no regional restrictions Region Free and activated in any country. Worldwide (Any Region)!
3.Multilanguage Version! This game includes all of the languages \u200b\u200bavailable for the European region (without patches).
•••••••••••••••••••••••••••••••••••••••••••••••••••••••••••••••••••••••••••
Activation:
1. Download and install the EA Downloader
http://eastore.ea.com/eadm
2. Run the EA Downloader.
3. Select the language and the place where the game is installed.
4. Go to the "Activation".
5. Create a new account or select an existing one.
6. Enter a key received after the payment, and the same username / e-mail and password for your academic record and click on "Account".
7. After the game activation tab appears with your profile and the list of activated games.
8. Select the name of the game and press "Start".
9. Download and install the game.
•••••••••••••••••••••••••••••••••••••••••••••••••••••••••••••••••••••••••••
NEW PRODUCTS:
https://irongamers.ru/sale/key/1609901
- Command & Conquer Alpha (2013) ORIGIN
https://irongamers.ru/sale/key/1608517
- War Thunder Get 200,000 Golden Eagles
https://irongamers.ru/sale/key/1616521
- Star Conflict Get 100,000 galactic standards
https://irongamers.ru/sale/key/1578621
- CRYSIS 2 MAXIMUM EDITION (ORIGIN)
https://irongamers.ru/sale/key/1578619
- Dead Space 3 (ORIGIN)
https://irongamers.ru/sale/key/1578720
- Dead Space (ORIGIN)
https://irongamers.ru/sale/key/1578683
- Medal Of Honor (ORIGIN)
https://irongamers.ru/sale/key/1578691
- Burnout Paradise: The Ultimate Box EU / RU (ORIGIN)