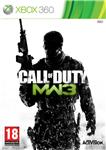 Genre: Shooter
Developer: Infinity Ward and Sledgehammer Games
Publisher: Activision
Cooperative play without a network: up to 4 players
Russian language
Size: 7.52 GB

Description:
This game is waiting. It had hoped and prayed for millions of fans. The most popular shooter of all times is ready to open a new page in the history of landmark legendary series of Call of Duty! Story MW3 continues events of the first two parts of the series, covering all unsaid points and developing a line of the second part. Action Modern Warfare 3 will begin immediately after the end of MW2, when the wounded John "Soap" MacTavish and John Price escape with their informant Nikolai helicopter in the Indian city Dharmsalu. There they meet Yuri - Comrade Nicolae - and immediately get ambushed by people Makarova.
The game is a series of short sketches of missions, during which the players will go to New York, Paris, London, Hamburg, Mogadishu, Dubai and other cities, including Moscow.
Return characters such as Vladimir Makarov, Captain John "Soap" MacTavish and, of course, even impenetrable tank shells, Captain Price, who will be with us all fifteen missions. For all the action you´ll be playing for the Russian agent protecting the president and his daughter, kidnapped Makarov. Visit fighter detachment SAS, see chemical attack in London. Pobudet American tank gunner in Hamburg and Delta Force soldier in Paris.

The game is available co-op mode "special operations", which is different from the mode of the same name presented in the Call of Duty: Modern Warfare 2, consisting of a set of missions for passing a joint. The difference is that Spec Ops will present a set of missions for co-passing, as it was in Call of Duty: Modern Warfare 2, and survival mode, which is similar to the regime against the zombies of the games Call of Duty: World at War and Call of Duty: Black Ops - players will jointly defend against attacking waves of enemies to them. With each wave of a broken enemies become stronger, new types of enemies.

- Very much revised and improved multiplayer, a new mode of Survival.
- Changes in game mechanics and physics make the game more dynamic than MW2.
- New ability of characters (perks) and completely revised the balance of weapons.
- Two cooperative mode, one of which will be a series of mission-based single player campaign (like Spec Ops mode in the Modern Warfare 2) and the second will be the reflection of the endless waves of enemies.
- The most realistic and interesting part of the long-awaited franchise.
Single player campaign that can outdo recent Hollywood blockbusters.
✅ You purchase a license transfer for a game on one of your console
(Just click "transfer license" in the account settings and download the game)

✅ You will start the game immediately from your profile
(Gold status and internet connection are optional)

✅ After payment you will immediately receive the data and very detailed instructions.

✅ Warranty 4 months from the date of purchase. Guaranteed to download only on the territory of the Russian Federation (not including the Crimea)

✅ Profile Russian, license. No stolen credit cards!

✅ All games are bought officially, so we give 100%
  guarantee the safety of your console and your profile