Content: text (25 symbols)
Available: 1
Uploaded: 13.10.2013

Positive responses: 0
Negative responses: 0

Sold: 0
Refunds: 0

Seller: Premium Accounts

Loyalty discount! If the total amount of your purchases from the seller more than: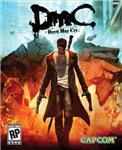 Platform: PC

Genre: Action

Publisher: Capcom

Developer: Ninja Theory

Release Date: January 25, 2013

Publication Type: Standard

Localization: Russian subtitles


Did you know that the arrogant poludemon Dante - storm demons of all kinds - not always a handsome blond in a scarlet cloak? In DmC Devil May Cry - the fifth chapter of the celebrated series of action-packed - you can see where to begin the path of the hero. And let Dante is a hairy teen, he was very famously wielded legendary Rebellion sword and a pair of pistols. This means that you stylish battle hordes of enemies and charismatic, self-assured character unique.