Content: (0 B )
Available: 0
Uploaded:

Positive responses: 67
Negative responses: 0

Sold: 1181
Refunds: 0

Seller: SOFT-KLUB

Loyalty discount! If the total amount of your purchases from the seller more than: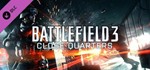 Buying from us Battlefield 3: Close Quarters you are guaranteed to obtain the license activation key immediately after the payment.



CAUTION

To start additions Battlefield 3: Close Quarters need to have the licensed version of the game Battlefield 3 with all updates.




Close Quarters - a new addition Battlefield 3 for team play in a melee. Fascinating battle infantry Close Quarters strengthened unprecedented destruction in high resolution, new features of the game, new weapons and a test of endurance.

At Close Quarters all the destruction implemented with high-definition (HD). To quickly get to the enemy, players can destroy everything around, watching the result of his actions in the form of stone and other debris scattered everywhere.

Close Close Quarters level design and many opportunities for vertical gameplay makes the player to get the most out of their abilities (unless, of course, he wants to stay alive in this theater of operations).


The main features of DLC Battlefield 3: Close Quarters:

- At Close Quarters immersed in a violent and merciless battle grunts!

- At Close Quarters You should always be on the move and look around, as death can occur from any angle and at any time!

- At Close Quarters you are allowed to destroy everything around! Absolutely everything! In HD!

- At Close Quarters you earn new weapons, which then can be used in the main game!

- At Close Quarters doing the job you get new badges!

- Play Close Quarters in new ways, implement and mix team tactics, learn to instantly respond to the constantly changing environment around you!


This item can be distributed via digital distribution, is a only a pin code, and does not contain the packages and boxes.
ATTENTION: the Given key to activate on Origin.

========== To start playing in Close Quarters you need: ==========
1. Download and install the Origin client. ( http://www.origin.com/download )
2. Start Origin.
3. Select the interface language and the place where you installed the game.
4. Go to "Origin-setting and management.
5. Select "Activate product code".
6. Enter the key Close Quarters, after payment received.
7. After activating the game tab will appear with your profile and the list of activated games.
8. Select Battlefield 3 and press "Start".
9. Download and install the game.