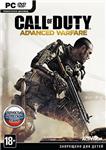 CAUTION You get a key Call of Duty: Advanced Warfare licensed version of the game, from the company´s New CD! Guarantee purity key!
Only the CIS

Call of Duty: Advanced Warfare


Future knows no mercy. On the ruins of the old world, survived the collapse of the usual geopolitical and military structures, a new force - the private military company, whose leadership wants to bring hope for humanity to live in dignity. Appliances against anarchy, iron order against chaos. Welcome to 2054, in which there is a war.


Call of Duty: Advanced Warfare was developed over three years, taking into account all the possibilities of a new generation of game systems. This new approach to the creation of the game will allow a new tactic. Advanced military technology and unique exoskeleton help survive where ordinary soldiers would not last five minutes! In addition, you expect a fascinating story and new characters, the role of one of them fulfilled the winner of the "Oscar" Kevin Spacey.


The game was released in Russian.


Product Features:

• Challenge to all enemies of civilization on the battlefield in 2054

• Use new tactics with the capabilities of a unique combat exoskeleton

• Experience new sensations thanks to a steep plot twists and stunning special effects of the new generation

• Fight in exciting single player campaign or challenge your friends, take part in updating battles online


System requirements:

• Supported operating systems: Microsoft® Windows® 7 64-bit / 8 64-bit / 8.1 64-bit

• Processor Intel® Core ™ i3-530 2,93 GHz or AMD Phenom ™ II X4 810 2.60 GHz

• 6 GB of RAM

• 55 GB of free hard disk space

• 3D-graphics adapter with 1GB or higher (NVIDIA® GeForce ™ GTS 450 or ATI® Radeon ™ HD 5870)

• Sound device compatible with DirectX®

• device for reading DVD-ROM

• Broadband Internet connection for activation and online gameplay


CAUTION To use this product you must accept the terms of subscription to the service Steam. The game has an age restriction 18+ and disabled children.