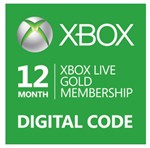 Xbox Live Gold 12 month Code Global

This product may contain 1 - a code for 12 months of gold subscription, 2 - codes for 6 months, 4 - codes for 3 months, the total amount of a gold subscription upon activation is 12 months.
Xbox Live Gold 12 month Digital Code
Codes it is forbidden to resell. After purchase, activate the code within an hour, because keeping them is impossible, can be rescinded.
If you are not ready to use the key right away, do not make a purchase, cheap codes have a small validity period. Otherwise, no claims will be accepted.
To redeem codes, use the ip address of any EU country (for example, France or Germany) on your device and activate the key from the site
https://redeem.microsoft.com/
. Any VPN application for your phone or computer will do.
Activation method without VPN from the phone (works for most users):
1. Disconnect the phone from Wi-Fi.
2. Through a browser, go to
https://redeem.microsoft.com
3. Log in to your account.
4. Enter the code and click "confirm"