Content: text (0 symbol)
Available: 0
Uploaded:

Positive responses: 223
Negative responses: 10

Sold: 893
Refunds: 2

Seller: Guria

Loyalty discount! If the total amount of your purchases from the seller more than:
| | | |
| --- | --- | --- |
| $50 | the discount is | 2% |
| $110 | the discount is | 3% |
| $300 | the discount is | 4% |
| $600 | the discount is | 5% |
| $1500 | the discount is | 8% |
| $3000 | the discount is | 10% |
| $8000 | the discount is | 15% |
| $15000 | the discount is | 18% |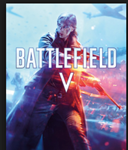 Welcome to Battlefield V. You are waiting for World War II, which you have not yet seen. Multiplayer modes. Subject campaign. "Royal Battle". And the new format of adventures for all players - "The course of the war", thanks to which you and your squad can enjoy the game for several years.
In a multiplayer format, you are waiting for a global military conflict of unprecedented scale and heat with eight different modes. The game will be loved by the players "Frontline" and "Capture", enriched with new features that will significantly expand their tactical depth.


ACCOUNT COUNTRY IN RANDOM ORDER! perhaps the absence of the Russian language!

After the purchase you get:
ОгLogin and password
💎 Data from the mail, we do not provide
💎 Ability to set your security question
 Any other games on the account are a bonus, but the performance of these games is not guaranteed.
 Change of mail and password are not available. Attempting will void the warranty.
 What is a "GUARANTEE"? - If you have any problems accessing your account, you will receive a replacement. The warranty is valid for 1 month from the date of purchase!
 In connection with the frequent cases of attempts of fraud on the part of buyers, I STRONGLY recommend that you record video FROM THE BEGINNING OF PURCHASE OF THE GOODS TO THE FULL ITS CHECKS! In the absence of this video by the buyer, CLAIMS WILL NOT BE ACCEPTED!
ACCOUNT COUNTRY IN RANDOM ORDER! Perhaps the lack of Russian language!
 Make sure your computer meets the minimum game requirements.