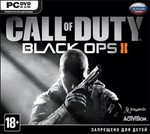 ATTENTION !!! You get a key "Call of Duty: Black Ops II" of the licensed version of the game, from the company´s new disc! Guaranteed purity key!
Region: Only CIS
include- multiplayer
By purchasing an electronic version, you buy only the key. The game is downloaded and installed directly via Steam. To do this you must register an account on the system Steam.