Positive responses: 0
Negative responses: 0

Sold: 0
Refunds: 0

Seller: Hamalik
information about the seller and its items
Loyalty discount! If the total amount of your purchases from the seller more than:
| | | |
| --- | --- | --- |
| $30 | the discount is | 1% |
| $40 | the discount is | 3% |
| $60 | the discount is | 5% |
| $80 | the discount is | 7% |
| $100 | the discount is | 8% |
Sorry, but this item is temporarily out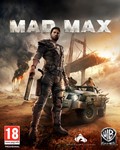 ►Description of the game:
In the post-apocalyptic world, the Mad Max machine is the key to survival. In the role of Mad Max, a single soldier, who has to fight for life in the Wasteland, you have to learn how to fight not only with your own hand, but also at the wheel of a car wrapped in a gun. Max will have to make friends with a talented, albeit original mechanic nicknamed Chumbucket - only with his help, Max behind the wheel of the faithful "Interceptor" will be able to get out of the wasteland.

►Features:
• Assemble the machine of your dreams - think, adjust, perfect your fortress on wheels. Choose a body to your liking, equip it with engine, weapons and armor. Only the skilled can survive.
• Feel what it means to be Mad Max, - get and improve equipment and weapons to survive in battles where the skills of melee and ranged combat are useful, as well as the ability to think tactically. You will often have to make tough decisions on the way to Max´s cherished goal - to get out of the wasteland.
• Be careful, the desert is insidious, it is not easy to survive here. Against you and the irreconcilable landscape, and the harsh climate, and bands of heavily armed marauders. In the vast vast open world, dangers lie in wait for each step.
• Everything is useful - any find will go into use and will be used to improve equipment, weapons and transport. Doing raids on the shelters of hostile groups, you will be able to extract more expensive resources.
• Be invincible at the wheel of a car, hung with all sorts of weapons. Thanks to realistic physics, not one battle is like the previous one.
ATTENTION: This key is for activation on Steam.

How to start playing MAD MAX:
• If the Steam client is not installed, download and install it.
• Log in to your Steam account or register a new one if you do not already have one.
• Go to the "Games" section and select "Activate via Steam" there.
• Enter the activation key (you need to buy MAD MAX to get it).
• After that the game will be displayed in the list, and you will be able to download MAD MAX