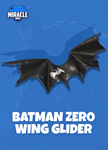 After payment you will receive the Fortnite Activation Code - Batman Zero Wing Glider.

You will receive the key in your personal account http://www.oplata.info.
Also, a link to the page with the key will be sent to your email specified upon purchase.

*************************************
Languages: English
Region: No regional restrictions



Platform: PC
Activation: EPIC GAME


***** Game Description *******

Fortnite is a live action game from the developer formerly known as Epic MegaGames. You and your friends will lead a group of Heroes to reclaim and rebuild the homeland that was left behind by a mysterious void known only as "The Tempest".

Team up online to build extravagant fortresses, find or craft insane weapons and traps, and defend your cities from strange monsters that appear during the storm. In action from the only company smart enough to attach chainsaws to weapons, travel there to throw back the Storm and save the world. And don´t forget to loot everything.

Activation instructions:
1. Activate the key by the link: https://www.epicgames.com/fortnite/en-US/redeem
2. Log in to access your account or create a new one.
3. Enter the key received after payment in the appropriate field.
4. Make sure that when filling in your data is correct and confirm by clicking "Activate".
6. Congratulations! You will be notified that a Fortnite Bundle has been added to your account.

**********************

Dear Customers!

Replacing a broken code,
All keys are checked before adding, therefore
if you didn´t have the opportunity to make a video, then:
You contact the technical support of the game with a request to provide the time and date of activation of this code.
After that, throw off the screen of the answer to us.
If the code is activated before you buy it, then we will instantly replace it without any problems. If the code was redeemed later, then I´m sorry.

For lovers of easy money, as well as unscrupulous competitors: Do not try, do not waste your and our time.
Good and good luck to everyone!