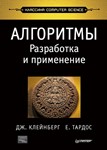 For the first time in Russian, one of the most authoritative books on the development and use of algorithms is published. Algorithms are the basis of programming, determining how the software will use data structures. You will get acquainted with the basic aspects of constructing algorithms, basic concepts and definitions, data structures, then go to the basic methods of constructing algorithms, undecidability and methods for solving insoluble problems, and, Finally, study randomization when designing algorithms. The most complex topics are explained on clear and simple examples, so the book can be used both for self nogo study of students and research scientists or professionals in the field of computer technology, who want to get an idea of the use of certain methods of designing algorithms. Algorithmic analysis consists of two fundamental components: identifying the mathematically pure core of the problem and identifying methods for designing an appropriate algorithm based on the structure of the problem. And the better the analyst owns the full arsenal of possible design methods, the faster he begins to recognize the "clean" formulations underlying the intricate tasks of the real world.
Year: 2016
Author: Kleinberg J., Tardos E.
Translator: E. Matveeva
Genre or theme: The art of programming

Format: PDF
Quality: Publishing layout or text (eBook)
Interactive table of contents: Yes
Number of pages: 800 s .: ill.