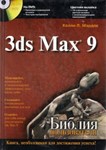 Before you - an updated edition of the world-famous bestseller, including
A description of the new components and functionality of Autodesk´s 3ds Max 9.
The book presents effective tools for organizing teamwork, namely: the system
Asset management scenes, animation layers, methods to reuse existing controllers, animations and other elements, as well as network and batch visualization tools. Thanks to the detailed description of new tools for imitating architectural objects and materials, new sources of light and shading, improved tools for combining objects, cooperative constraints for moving objects, animation caching and temporary images, the book will become even more useful even for the most experienced users.
All scenes created in the exercises are supplemented with files with source and final versions on the attached disc. The results of all exercises are accompanied by final images, and the results of creating animations are video clips in AVI format.
Year of manufacture: 2007
Author: Kelly L. Murdock
Format: DjVu
Number of pages: 1344 pages.
This book is accompanied by a DVD with lessons!