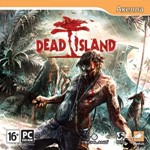 ATTENTION !!! You get the key from the licensed version of the game, from the company´s new disc! Guaranteed purity key!

Dead Island
only -CIS!!!

Activation Key


1. Download and install Steam http://steampowered.com/download/SteamInstall.msi, Registered account on Steam.

2. Click "Add game - activated via Steam" and follow the instructions. After activation of the game will appear in the list of games and you can download it.


After activation serial key in the steam, the key becomes not valid, ie, they can not re-use.

Be sure to remember, and better write down all the details of your account! Without them, you will not be able to gain access to active games in the future.