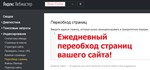 Pereobhod - script for Zennoposter / Zennobox to speed up the indexing of the site by adding Yandex.Webmaster to the panel and adding links for overbidding.

IMPORTANT:
1. The script is designed to work with doorways created by D-Zeus (uses reports from the D-zeus \ d-software \ d-zeus \ Reports program and D-WP plug-in functions to confirm registration).
2. The script adds 20 pages per day - this is the limit of Yandex.
3. The script is provided in closed form on your Zennolab mail or in the form of Zennobox.

Principle of operation:
1. In D-zeus select the domains for which you want to make a re-move and create a report for them in the format urls.txt
2. Put the report folder in the appropriate folder of the script.
3. Run the script. Set the repeat every 25 hours.
Immediately after payment you will receive a form to fill in the registration data, in which you will have to fill out the following fields:
- The e-mail address (email);
- The Zennoposter mail address;
These data will be transferred to the seller to complete the purchase and sale of the goods.