Content: serial-image-55b8f7a473563af081359754a45f66f3.png (15.38 KB )
Available: 2
Uploaded: 01.02.2023

Positive responses: 104
Negative responses: 0

Sold: 258
Refunds: 1

Seller: mrakk

Loyalty discount! If the total amount of your purchases from the seller more than: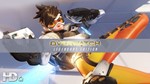 ✅ THE LICENSE KEY FROM THE GAME OVERWATCH LEGENDARY EDITION IS DISPLAYED IN THE BROWSER WINDOW AND COMES TO YOUR E-MAIL AUTOMATICALLY AFTER PAYMENT !!!

Activation: Battle.net
Region: Without regional restrictions (ALL REGIONS WHERE SUPPOER THIS GAME)
Localization: Russian, English, Spanish, French, Italian, Polish, Portuguese, Korean, Japanese.
Developer: Blizzard

THE COMPOSITION OF THE OVERWATCH LEGENDARY EDITION:

- Overwatch game;
- 5 Epic and 5 Legendary skins in Overwatch;
- Hero Skins ("Blackwatch Reyes" and "Commander Morrison", "Overgrown Bastion", "Farr´s Guard Chief" and "Pilot Tracer"!);
- Hero Tracer (For Heroes of the Storm);
- Baby Winston (For World of Warcraft);
- Angel Wings (For Diablo III);
- In-game portraits for StarCraft II and a card back for Hearthstone.---------------------------------
PRESENT!!! WRITE A POSITIVE FEEDBACK WITH THE WORDS "I WANT A GIFT" AND Duplicate THIS MESSAGE (in the CORRESPONDENCE tab on the order page Oplata.info), AFTER WHAT YOU ARE GUARANTEED TO GET A RANDOM, INEXPENSIVE GAME.

If you have not written in correspondence with the seller, then you should not be offended when you do not receive a gift.
---------------------------------Game features:
Soldiers. Scientists. Adventurers. Freaks. During the global crisis, an international special squad of heroes was created to bring peace to the world. It was called ... Overwatch. The heroes coped with their task, and agreement reigned on the planet for many decades. A new era of research, invention and scientific discovery has begun. Over the years, however, Overwatch´s influence began to wane and the division was disbanded.
- In Overwatch, you will find many different heroes: a time-traveling adventurer, an armored warrior with a rocket hammer, and even an enlightened robot monk. Each of them has a unique style of play, and in order to reach their full potential, you will need to use all their abilities.
- Each hero contributes to the common cause - whether it is a fighter on the front line, a defender who covers allies with an energy shield, or a support hero who makes teammates stronger. The key to victory is the effective use of the abilities of all heroes.
- Teams of heroes are fighting in different parts of the planet. You may be tasked with protecting the mysterious temple of Anubis and its secrets, or you may be holding the EMP emitter safe and sound through King´s Row. The whole world is a battlefield for you./delivery
Activation Key:

1. Log in to your account https://eu.battle.net/account and enter your username and password.
2. Enter your purchased key link https://eu.battle.net/account/management/add-game.html
3. After activation key, you will be able to download the client game.