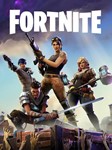 BUYING THIS ITEM YOU INSTANTLY GET:
EPICGAMES licensed account with PVP skins 25-50 on the account
Login data in EPICGAMES as login | password Mail | password
Full seller support in case of questions

On the account balance such pleasant bonuses are possible: v-bucks, combat passes, various add-ons and much more.
We do not guarantee you the possibility of playing with consoles - this opportunity is random.

Game Description:
Fortnite is a free-to-play cooperative action game in the open world about zombies, made in a cartoon style. Players will explore the world, fend off the attacks of the living dead, and defend their territory. In addition to the mode of exploring the world, the game also has a battle royale mode, in which players can also build their fortresses, but here they have to fight not with the living dead, but with other players.

Fortnite Battle Royale became the main competitor of Playerunknown´s Battlegrounds not only on Twitch, but also in terms of the number of people playing at the same time. However, the freeness of the game said its word - Fortnite BR does not require any costs, and therefore allows you to start playing and winning extremely quickly.
If you have any difficulties or questions, please do not be in a hurry to leave a negative review, and email us at any available contacts and we will help you and figure it all out, and also give you an additional account for your lost time! We really value our reputation and value our customers.
Thank you for buying from us!