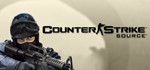 CSS new accounts with guarantee (Region Free)
After payment you will receive 100% working account With the game Counter-Strike: Source, you´ll first owner of this account, no simulated hours, no refunds and no problems, as personal accounts!
THE NEXT INSTALLMENT OF THE WORLD´S # 1 ONLINE ACTION GAME
Counter-Strike: Source blends Counter-Strike´s award-winning teamplay action with the advanced technology of Source™ technology. Featuring state of the art graphics, all new sounds, and introducing physics, Counter-Strike: Source is a must-have for every action gamer.
To change the data from the e-mail:
1) Log in Steam application
2) Click on login, click "Account"
3) In the contact information section, add your phone by clicking on the "Add phone"
After binding can change mail Steam-> Settings-> edit contact email address will then be able to change your password.