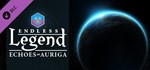 IMMEDIATELY AFTER PAYMENT YOU will RECEIVE a Key TO ACTIVATE
Endless Legend - Echoes of Auriga (Endless Legend - Echoes of Auriga Add-on) on STEAM!

WITHOUT REGIONAL RESTRICTIONS (Rest of World (ROW) - Region Free / World Wide Steam Key)!

This product is an addition (DLC) to the game Endless Legend. To activate the key requires activated on steam account the game Endless Legend.

About DLC: Endless Legend´s soundtrack has been praised by our community. Enticed by this success, FlybyNo has created 7 awesome new tracks totalling over 30 minutes of music to enhance your experience and enrich the game´s atmosphere. Echoes of Auriga Album, composed and produced by FlybyNo.

The album includes the following tracks: War of the Sundered (Gravity Well Remix); Way of the Forerunner; Under the Threshold; Glassteel; Skyglade; Pillars of Dust; Flamesear. Includes all Echoes of Auriga tracks in mp3 format.

BONUS: An exclusive equipment pack. This additional content gives you also access to 9 exclusive unit equipments such as the ´Drum of Gios´, the ´Ring of Magesong´ or the mighty ´Harp of Noby Fly´, inspired by the Echoes of Auriga.


After purchase is necessary:

1. Download and install Steam http://steampowered.com/about (if not already installed);
2. Register a new Steam account or log in to an existing one;
2.1 Buy and activate the game Endless Legend on steam account (if you do not have the game);
3. In the top menu of the Steam window, open the item "Games "and select"Activate via Steam".
4. Enter the activation key, click "next" - DLC activated.
5. After activating the DLC key will appear in the properties of the game Endless Legend and from the library of games steam client, you can download/install it with the game.