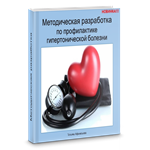 From this book you will learn how to behave properly with hypertension. The book is in an accessible language for patients, without medical terms.

You will learn what proper exercise means, what kind of food with high blood pressure you need. You will learn how and what animals can be used to prevent exacerbations.

The book describes specific methods for solving problems with your pressure.

A lot of motivation for the patient. You will see the disease through the eyes of an ordinary person, not a doctor.