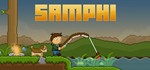 Title: Samphi
Genre: Indie, RPG, Early Access
Developer: Greeny Games Studio
Publisher: Greeny Games Studio
Release Date: 18 Mar, 2016

Samphi is a fresh randomly-generated survival-RPG, with a shifted focus to skills, world management, and a story mode*. Travel through broken memories of a failing relationship to try and salvage what's left. How you play is up to you. The world is yours. Your story is waiting.
Steam Key
Region free