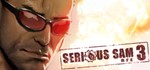 #290
Serious Sam 3: BFE is a great return to the golden age of first-person shooters when men were men, shelters were for cowards, and trigger pulling was accompanied by huge explosions. As a prequel to the original indie sensation of Serious Sam: The First Encounter, the events in Serious Sam 3 take place during the last battle for Earth against legions of alien beasts and Mental mercenaries. Amid the crumbling temples of ancient civilization and the crumbling cities of Egypt in the 22nd century, Serious Sam 3 combines a classic non-stop shooter and features of modern gameplay.
NO SHELTERS. BE A MAN.
Features:
Crazy action in an arcade style: constantly pull the trigger and destroy the endless onslaught of attacking mercenaries and wild animals of the Mental. Without shelters, without stops - only you and they are here. They all.
Frightening hostile creatures: a new battalion of memorable subordinates, including the rattling Scrapjack and giant Kham, who will join the headless suicide bombers, snappers and Syrian werewolf bulls to create the most merciless horde of enemies that you have ever had the pleasure of destroying.
Exciting environment: a battle in the vast expanses of the near future of Egypt, complete chaos. Destroyed cities near the abandoned temples of the ancient world will become your destructible playground.
Destructive Arsenal: Use Cool Sam's impressive arsenal for its intended purpose, including an assault rifle with a collimator sight, a double-barreled shotgun, an automatic shotgun with exploding charges, a punishing minigun and magnificent flaming cannonballs! Carry all of Sam's weapons with you at the same time and switch between them during battle to achieve maximum firepower.
Overwhelming melee attacks: Tear out the eyes of the nearest sneaker, tear off your face from the hideous Scrapjack, break Arachnoid´s neck to kill them instantly.
Chaos of joint passage: go to war against the Mental army, playing on the network in the company of 16 other players, destroy everything that moves and create rout over 12 levels. Try to survive by fighting off waves of enemies in the merciless Survival mode or go on a nightmare safari in the Beast Hunting mode!
Flawless multiplayer pogrom: challenge other players in incredible online game modes, such as Survival Fight, Flag Capture, Team Fight and My Burden. This is the next level of Serious Sam multiplayer modes, where all hell will soon break free.
Split-screen game modes: play co-play mode and other network modes with four of you on one computer. Hey, stop squinting at my screen!