Positive responses: 50
Negative responses: 2

Sold: 50
Refunds: 22

Seller: Razdolie

Loyalty discount! If the total amount of your purchases from the seller more than:
Sorry, but this item is temporarily out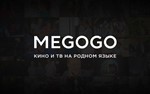 To use your account outside of the Russian Federation, you may need a VPN or proxy server. Please bear this in mind. /🔷 Low price.
🔷 There is no need to link your personal data and bank cards to your account.
🔷 Technical support.
🔷 High quality streaming.attentionACCOUNT WARRANTY 1 MONTH. /attentionMEGOGO is a convenient video service for watching movies, interactive channels and TV. Watch on Smart TV, mobile and web with a single access for all devices.

Now you have thousands of free movies at your disposal, as well as hits from the world box office and TV subscriptions.