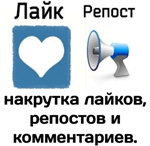 100-5000 likes of live VK users (not bots).
With a minimum price of 50 rubles, you get 100 likes.
To buy likes more than 100, you need to select an amount greater than 50 rubles before clicking on the "" icon Each hundred likes will cost 50 rubles.
Each thousand likes will cost 500 rubles.
Each hundred reposts will cost 100 rubles.
The cost of one comment, depending on the quality of 5-20 rubles.
The larger the amount you specify, the more meaningful and better comments you will receive.
If you do not know how much your order will cost with a certain number of likes and the quality of comments, write your question to the seller.

As a gift, you receive a promotional code for a discount on your next order.

Start within 2-10 hours (depending on the time of day).