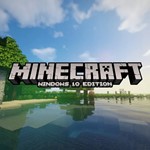 ACTIVATION REGION - ARGENTINA. VPN IS REQUIRED, IT IS NEEDED TO ONLY ACTIVATE THE KEY. FURTHER VPN IS NOT REQUIRED.
IF YOU HAVE ISSUES ACTIVATING WITH VPN - I´LL PERSONALLY ASSIST YOU.attentionTitle: Minecraft: Windows 10 Edition
Activation: Microsoft Store
Product type: Activation code
Activation (use) region: Argentina
Platform: PC/attentionMinecraft for Windows 10

Create everything you can imagine. Explore randomly generated worlds. Escape from dangerous mobs at night.

Explore endless worlds and build anything from simple huts to the most luxurious castles. Play in creative mode with unlimited resources or choose a survival mode in which you have to create weapons and armor and get resources while protecting yourself from dangerous mobs. Create, explore, and survive alone or with friends on mobile devices, Switch, Xbox One, and Windows 10.

DOWNLOAD THE GAME:

Market. Discover new content from the community in the market! You are waiting for unique maps, skins and texture sets from your favorite authors.
Console teams. Control the gameplay: distribute items, summon mobs, change the time of day and much more.
Additions. Create your own atmosphere with free add-ons! If you like programming, create new resource sets by modifying game procedures.

NETWORK GAME

Realms Play with 10 friends on any platform, anytime, anywhere in Realms, on your own server that we provide you. Try 30 days for free in the app.
Game on the net. Play online with 7 friends who have a free Xbox Live account.
Servers. Connect to free network servers and play with thousands of other users!
Explore giant community-driven worlds, compete in unique mini-games and make new friends in chat rooms.
ACTIVATION:
Download and enable Hola VPN
Activate the key here:
https://redeem.microsoft.com/
✅ IMPORTANT: the keys must be activated immediately after purchase. Warranty at time of sale.
Refund policy:
In order to receive a refund for any problem with the code, you must start recording the video ON THE PHONE and display the moment of payment and the moment of activating the code on it - WITHOUT GLASES, this should be one video. If I see that the code was actually used before or is available some other problem i will make a replacement.