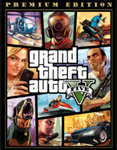 ATTENTION: After payment, you will instantly automatically receive a LOGIN and PASSWORD for Epic Games ACCOUNT, on which the license Grand Theft Auto V Premium Edition is activated for playing only on a PC.
Activation on this account do not have regional restrictions and you can play from any country of the world.
This product is an EPIC GAMES ACCOUNT with the Grand Theft Auto V Premium Edition licensed game activated on it.
The Grand Theft Auto V: Premium Edition includes the complete Grand Theft Auto V story experience, free access to the ever evolving Grand Theft Auto Online and all existing gameplay upgrades and content including The Doomsday Heist, Gunrunning, Smuggler's Run, Bikers and much more. You'll also get the Criminal Enterprise Starter Pack, the fastest way to jumpstart your criminal empire in Grand Theft Auto Online.
About the game: When a young street hustler, a retired bank robber and a terrifying psychopath land themselves in trouble, they must pull off a series of dangerous heists to survive in a city in which they can trust nobody, least of all each other.
GRAND THEFT AUTO ONLINE: Discover an ever-evolving world of choices and ways to play as you climb the criminal ranks of Los Santos and Blaine County in the ultimate shared Online experience. THE CRIMINAL ENTERPRISE STARTER PACK. The Criminal Enterprise Starter Pack is the fastest way for new GTA Online players to jumpstart their criminal empires with the most exciting and popular content plus $1,000,000 bonus cash to spend in GTA Online - all content valued at over GTA $10,000,000 if purchased separately. LAUNCH YOUR CRIMINAL EMPIRE. Launch business ventures from your Maze Bank West Executive Office, research powerful weapons technology from your underground Gunrunning Bunker and use your Counterfeit Cash Factory to start a lucrative counterfeiting operation. A FLEET OF POWERFUL VEHICLES. Tear through the streets with a range of 10 high performance vehicles including a Supercar, Motorcycles, the weaponized Dune FAV, a Helicopter, a Rally Car and more. You'll also get properties including a 10 car garage to store your growing fleet. WEAPONS, CLOTHING & TATTOOS. You'll also get access to the Compact Grenade Launcher, Marksman Rifle and Compact Rifle along with Stunt Racing Outfits, Biker Tattoos and more.
Actions after the purchase:
1) Download the Epic Games client from https://www.epicgames.com/
2) Login to the purchased Epic Games account using the purchased username and password
3) From the Epic Games client download the game and run it.
4) After starting the game, you need to link the Rockstar Games account to the Epic Games account. If you already have a Rockstar Games account, you can use it. If you do not have it, then following the instructions after the first launch of the game you will need to create a Rockstar Games account and link it to the Epic Games account. Record and save data from Rockstar Games and Epic Games accounts. Linking your Epic Games account to your Rockstar Games account is permanent and if you lose / forget data from both accounts, you will lose access to the game and the seller will not be able to help you in this case.
1) The data sold is as follows:
login@domain.com - login to enter Epic Games account (first line - login)
xxxxxxxxxxxxxxxxx - password to enter the Epic Games account (second line is the password).
2) WE DO NOT PROVIDE access to our emails. If you want to change the email from your account, contact the seller's correspondence on the product page. We (if possible) will provide you with a code (link) for changing the email on your account from our old emails.
3) Claims will not be accepted if you bought the product by mistake, did not read or did not understand the product description (all questions must be asked BEFORE paying for the product to the seller in the chat). We will not return refunds in these cases. After payment you will receive a clean, freshly registered Epic Games account with the game Grand Theft Auto V: Premium Edition and it is guaranteed to be a working one, registered personally by the seller, there are no statistics, that is, someone has already played hours in the game.
4) All risks of possible blockings of the Epic Games account, in-game locks, blocking of the Rockstar Games account associated with a possible violation of the Epic Games & Rockstar Games license agreement in connection with the purchase of the account, its use, use of cheats in the game or exploits in the game, etc. d. - the buyer takes care. Simply put, if you were blocked - it is only your fault, the seller has nothing to do with it.
5) If you have never played GTA V, you will need to undergo training - a mission (s) in story mode to access GTA Online and, accordingly, to Premium Edition bonuses. After that, go to GTA Online (on the server) and pick up items from the DLC in in-game stores
Read more: https://support.rockstargames.com/articles/115015759007/
6) In GTA Online, a cash bonus of $ 1,000,000 GTA, which is part of the Premium Edition as part of the Criminal Organization starter kit, can appear in the user account only 7-10 days after the first game session in GTA Online. If after this period nothing has happened, you should either go through the training missions, or, if that does not help, contact Rockstar Games and Epic Games support.
Refrain from buying if any item from the product description you think is not acceptable for yourself.