Content: text (20 symbols)
Available: 1
Uploaded: 02.03.2021

Positive responses: 0
Negative responses: 0

Sold: 0
Refunds: 0

Seller: otshop

Loyalty discount! If the total amount of your purchases from the seller more than: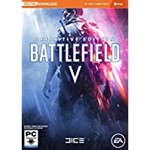 Activation: Origin/EA APP (PC)
Region: No regional restrictions (ALL COUNTRIES)
Release Date: November 12, 2021
Localization: English US, Español México, Français, Português Brasil
Publishers: Electronic Arts
Battlefield V Definitive Edition contains the base game of Battlefield™ V and the most comprehensive collection of in-game content ever:
- All in-game items (weapons, vehicles and devices) available when the game was released, as well as those released during the 2 years of its existence.
- All elite fighters.
- 84 sets of realistic equipment for British and German troops, further increasing the freedom of action and choice in the battles of World War II.
- 8 sets of soldier equipment released in the second year of the game´s existence.
- 2 weapon skins released in the second year of the game, which can be used for 10 and 4 models, respectively.
- 3 finishes for appliances.
- 33 items available as chapter rewards from the first year of the game.
Game description:

The ultimate Battlefield™ V experience awaits. Take part in the biggest conflict in the history of mankind, unfolding on land, sea and air, with initial access to all game content. Use the full arsenal of weapons, equipment and devices in a way that suits you, headlong into the fierce battles of World War II. Stand out on the battlefield with all the elite fighters and the best personalization items released in the first and second years of the game.
Game activation:
1. Download and install Origin/EA APP. (http://www.origin.com/download)
2. Launch Origin/EA APP.
3. Select the interface language and the location where the game will be installed.
4. Go to the "Origin-Settings and Management" section.
5. Select "Redeem product code".
6. Enter the key received after payment.
7. After activating the game, a tab will appear with your profile and a list of activated games.
8. Select Battlefield 4 and press "Start".
9. Download and install the game.