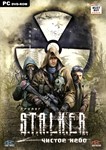 To pay with a bank card, choose the Enot.io payment service - the commission here is significantly lower!Activation: Steam/Region Free - unlimited.
The following languages ​​are available - Russian, English, Ukrainian, French, German, Italian, Spanish, UkrainianEach buyer who leaves positive feedback after the purchase receives 5 cashback from its value!/delivery/attentionABOUT THIS GAME
The plot of S.T.A.L.K.E.R.: Clear Sky takes players a year before the events of the original S.T.A.L.K.E.R. in 2011.
A group of stalkers for the first time got close to the very heart of the Zone - the Chernobyl nuclear power plant, provoking a cataclysm that almost led to disaster. A grandiose release of anomalous energy changes the Zone. There are no more proven and relatively safe roads. Entire levels disappear in flashes of anomalies. Stalkers and even expeditions die or are trapped in the missing territories. New territories, about which nothing has been known since the appearance of the Zone, appear on the map of the Zone. Emissions continue to shake the zone. The zone is unstable. Anomalous activity is at its maximum.
Changes to the map of the Zone known to stalkers violate the fragile balance of power in the Zone. Between factions, enmity flares up for new territories, fields of artifacts and spheres of influence. There are no more old enemies or friends - now it´s every man for himself. A faction war broke out between the factions.
The protagonist is a mercenary who, by the will of fate, found himself at the very edge of the confrontation between the factions of stalkers, the Strelok and even the Zone itself. The main character will play a major role in the events that led the history of the Zone to the point from which the original S.T.A.L.K.E.R.
What awaits stalkers in the opened depths of the Zone? What new dangers lurk in the new territories? Why are emissions shaking the Zone? Why has the Zone changed? How to eliminate its instability? Which faction will prevail in the confrontation between factions? Why did the Shooter get into the death truck? What happened to Strelok before that? Was there another choice? These and many other questions can be answered in the official S.T.A.L.K.E.R.: Clear Sky prequel.
Experienced stalkers and beginners! Get ready for new challenges in the Exclusion Zone in the spring of 2008.
Key activation:
1. Download and install Steam - http://store.steampowered.com/
2. Register a new account on Steam or go to an existing one.
3. Go to the "Library" section and in the lower left corner select "Add game", then "Activate on Steam".
4. Enter the key.
5. After activation, the game will appear in the list of games, and you can download it from Steam.