Content: text (19 symbols)
Available: 1
Uploaded: 31.12.2022

Positive responses: 0
Negative responses: 0

Sold: 1
Refunds: 0

Seller: otshop

Loyalty discount! If the total amount of your purchases from the seller more than: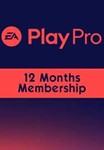 Platform: PC
Activation: Origin/EA APP
Publisher: Electronic Arts
Activation region: Without regional restrictions (REGION FREE)

---------------------------------
What is EA Access?

EA Access is an Xbox One-only subscription that lets you play more games for less money. Play a growing collection of over 10 games in The Vault, play new EA games before they´re released, and save 10% on EA digital purchases on Xbox One, including full games, pre-orders, add-ons, Ultimate Team™ Points and more. Certain conditions, limitations and exclusions apply.

What is The Vault Game Library?
The Vault is a growing collection of the best EA games on Xbox One that you can download and play with an active EA Access membership. Enjoy unlimited time in EA games like Battlefield 4™, FIFA 15, Plants vs. Zombies™ Garden Warfare, Madden NFL 15, Need for Speed™ Rivals and more, and more games will be available at a later date.

What is the difference between EA Access Demo and Trial?
Demo versions are part of the game that will allow you to understand the essence of the game. When you play a trial game on EA Access, you play the full game for a limited period of time until the game goes on sale. And if you buy the game after it´s released, you´ll be able to pick up where you left off and your progress and stats will be preserved.

Can I subscribe to EA Access without being an Xbox Live Gold member?
Yes, any Xbox One player can become an EA Access subscriber and get all the benefits of a non-Xbox Live Gold subscription. You still need an Xbox Live Gold membership to join multiplayer on an Xbox One console. Read more about Xbox Live Gold here: http://www.xbox.com/en-us/live/
Key activation:
1. Download and install Origin/EA APP( http://www.origin.com/download ).
2. Launch Origin/EA APP.
3. Select the interface language and the location where the game will be installed.
4. Go to the "Origin-Activate product code" section.
5. Enter the key. After that, the game will appear in the library of games, where you can download and play it.