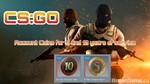 💡 INSTANT Delivery After Payment!
💬 Questions & Help in the online chat of the seller!

🎁 About Account:
✅ After entering the game, the account is guaranteed to have Two Medals for 5 and 10 years of service!
✅ The account has a CS 1.6 or CSS game, sometimes two CS 1.6 + CSS at once are a bonus
✅ Year of registration of accounts 2003
✅ All Accounts are Personal and Will Never Be Recovered!
❗ CS: GO Prime status is missing.

Attention!!! The presence of inventory, Steam levels, access to the trading platform, the ability to add to friends and groups, the balance of the wallet, the presence of other paid games is not guaranteed and is not a prerequisite, if you come across something on your account, this is your bonus !!!
💡 After payment, you will instantly receive an email in which:
✅ login, mail password.
✅ login, password from the Steam account.
✅ I do not make returns, please read the description!

⚠️ After transferring data from the account to you, you are responsible for it, that is (vac, patrol, etc.)
⚠️ The seller of the site does not store data after the sale of goods, please store your goods securely, and do not allow third parties to receive data! The client must ensure the safety and security of data, we recommend changing all data after purchase.