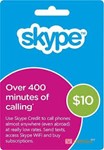 !! INSTANT DELIVERY IMMEDIATELY AFTER YOU CONFIRM PAYMENT !!

After paying for the order, the system will automatically (without our participation) instantly send you a link by email to access the official key (voucher) for replenishing Skype balance for $ 10.
The key has no territorial restrictions and can be activated IN ANY COUNTRY WITH CONVERSION IN ANY CURRENCY!
Voucher activation:
1.Log in to the website
http://www.skype.com
2. at the bottom of the page, click "Redeem voucher"
3.enter the voucher code
4. confirm your agreement with the terms and click "activate"
The funds will be credited to the account immediately.
Or via the direct link on the voucher activation page:
https://secure.skype.com/wallet/account/voucher