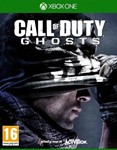 License key for the game-Call of Duty: Ghosts
Activation: Xbox One
Release Date: 22.11.13
Languages: Russian, English, German, French, Polish, Portuguese, etc.

To activate the key on your account, you may need a VPN connection. Argentina
This key is distributed by digital distribution. And it has no boxes or disks.
About the game:
They can´t be broken. Welcome to Call of Duty: Ghosts, the new page of the most famous game series of all time. For the first time in the history of the series, players will take part in a battle on the side of the weakest side, when the enemy is outnumbered and outgunned.
At the heart of this Call of Duty universe is a next-generation engine that delivers incredible levels of immersion and performance, and is capable of 60 frames per second on all platforms.
Ten years after the devastating event, the nation´s borders and the global balance of power have changed. In this harsh reality, the fighters of the elite unit "Ghosts" will challenge a new global force, equipped with the latest technology and claiming world domination.