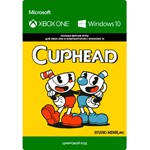 ACTIVATION REGION - ARGENTINA. VPN IS REQUIRED, IT IS NEEDED TO ONLY ACTIVATE THE KEY. FURTHER VPN IS NOT REQUIRED.
IF YOU HAVE ISSUES ACTIVATING WITH VPN - I´LL PERSONALLY ASSIST YOU.attentionTitle: Cuphead
Activation: Microsoft Store
Product type: Activation code
Activation (use) region: Argentina
Platform: XBOX/Windows 10/attentionCuphead is a classic run and gun action game heavily focused on boss battles. Inspired by cartoons of the 1930s, the visuals and audio are painstakingly created with the same techniques of the era, i.e. traditional hand drawn cel animation, watercolor backgrounds, and original jazz recordings.

Play as Cuphead or Mugman (in single player or local co-op) as you traverse strange worlds, acquire new weapons, learn powerful super moves, and discover hidden secrets while you try to pay your debt back to the devil!
ACTIVATION:
Download and enable Hola VPN
Activate the key here:
https://redeem.microsoft.com/
✅ IMPORTANT: the keys must be activated immediately after purchase. Warranty at time of sale.
Refund policy:
In order to receive a refund for any problem with the code, you must start recording the video ON THE PHONE and display the moment of payment and the moment of activating the code on it - WITHOUT GLASES, this should be one video. If I see that the code was actually used before or is available some other problem i will make a replacement.