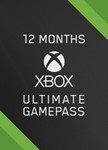 < delivery > After you pay, you receive a unique code that you need to tell the seller through personal correspondence.
Also, after you pay, you need to provide your XBOX LIVE account LOGIN/PASSWORD (in personal correspondence with sellers to the order) </attention >

After receiving the data, your account is subscribed to XBOX GAME PASS ULTIMATE for 12-13 months.
If your account previously had an Xbox Game Pass Ultimate subscription, you get 12 MONTHS of Xbox Game Pass Ultimate. (+ 7 days)


< attention > SUBSCRIPTION ACTIVATION IS POSSIBLE IN ANY CTPAHE!🔥🌍IMPORTANT! At the time of activation of this subscription, your account must NOT have ACTIVE SUBSCRIPTIONS, you will only be able to activate after they have ended.

At the time of activation, it is impossible to log in to the account, it is better not to turn on the console at all.
Additional information
✅ Ultimate subscription includes:
- Xbox Game Pass Subscription for Xbox One Consoles
- Xbox Game Pass Subscription for PC (Win 10)
- Xbox Live Gold Subscription for Xbox One and Xbox 360
- EA Play
OPERATING TIME FROM 11-00 TO 02-00 AS PER WCS
Activation is carried out within 20 minutes - 4 hours, most often I begin to execute immediately after the receipt of the order. (you can write to me in any messenger convenient for you)
If you order additional subscription time, the run time will be longer.
FAQ:
1) Why give your data from your Xbox live account?
Answer: That I could subscribe to your account the way I sell the service, not the code.
2) Do you transfer/sell my account to third parties?
A. No, once your subscription is successfully activated, you can change your password.
3) Do you buy a subscription from stolen cards? Are you a carder?
Answer: No, personal and legal cards are used to receive subscriptions.
4) Can my account be blocked? Is that legal?
Answer: No, regional features are used to receive subscriptions - this is legal.
5) Give me the code, I will activate the subscription myself!
Answer: I sell the service, not the code. It is not possible to use it yourself.