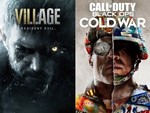 After payment, you will instantly receive a login and password from my personal account with the games Resident Evil Village and Call of Duty Black Ops Cold War Xbox One / Series S / X.

After downloading the games, you can freely play and launch games from your profile. Installing games on your Xbox One console:

1) Go to the purchased profile, click "Login".
2) Click "Add new user", enter the purchased data (login and password).
3) Login and security parameters - set "No restrictions".
4) Go to "My games and applications" or "XBOX Store".
5) Find the purchased game and install it.
6) Switch to your personal profile and launch the game.
The profile is being sold publicly.
HOW TO USE YOUR ACCOUNT:

Option 1.
We enter the purchased account with the game and immediately switch to your main account. We enter the game. We play.
If you see the inscription "Logged in somewhere else, you can continue to play from 7 minutes to 1 hour (always in different ways). After that a window will appear that you will need to re-enter the account from which the game was purchased. This window is not close, and re-enter the account with the purchased game using the central Guide button, then switch to your own and continue playing from the same place where we left off.

Option 2.
We log into the account with the purchased game, then switch to our own and launch the game. Disconnect from the Internet and play :)
ATTENTION!
1) You can´t make an account home
2) You cannot change the data and transfer it to third parties
3) You cannot change the region or protection information
4) Additional mail is not provided
5) Requires a permanent internet connection
6) The account is not your property

For violation of the rules, you will lose access to your account without refunding the funds paid!
Replacement of goods is made only in the following cases:
- Wrong login or password
- Product does not meet the description

Product replacement or refund will not be made:
- After 3 months from the date of purchase
- "Accidentally" purchased the wrong product
- I didn't like the game on the profile
- Violation of the rules for using the profile
If during the game you are sometimes "thrown out" of the gameplay, try to enter the game later. Any claims in this case will not be accepted
*** By purchasing an account, you automatically agree to the terms of the seller and the terms of use described in the instructions. ***