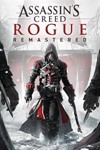 An updated version of Assassin´s Creed®´s darkest chapter for next-gen platforms. The story of Shay´s assassin during the Seven Years´ War, who decided to betray the Brotherhood after witnessing a disaster.
To activate the code, you must do the following:
- Download Hola Free VPN Proxy App on your phone | Thunder VPN | Tiger VPN | safervpn
- launch it, select the browser and download from the Region you need (Argentina).
- follow the link
https://redeem.microsoft.com
.
- log into your account
- enter the key, activate and download the game
Attention:
- Dear customer, we sell only an official product, at market prices, you can verify this personally by making a purchase. For your safety, we strongly recommend that you record the purchase process prior to activation (time / date stamped), in case you are in doubt. The claim will be considered only if there is a video and the fact of a problem. Thank you for understanding.
Claims are accepted only with video recording from the beginning of receiving the game to its activation.
- The return of the key for reasons "did not fit" "cannot activate" or "did not read the description" is NOT performed
- The seller will always assist in activating the key on his own to your account at any time of the day except at night.
- By purchasing the product, you automatically agree to the terms of the seller and the terms of use described in the instructions.
- Please do not leave Negative feedback, before contacting the seller!
- Happy shopping!
- After payment, you instantly receive a key (Code for downloading the full version of the game from the Xbox Live service)