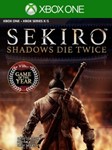 The key for Sekiro™: Shadows Die Twice - GOTY Edition will be displayed on your screen immediately after payment, and will also be delivered to your e-mail address, which was specified at the time of purchase.ACTIVATION REGION - ARGENTINA. VPN IS REQUIRED, IT IS NEEDED TO ONLY ACTIVATE THE KEY. FURTHER USAGE OF VPN IS NOT REQUIRED.
IF YOU HAVE ISSUES ACTIVATING WITH VPN – WE WILL ASSIST YOU IN CHAT.attentionTitle: Sekiro™: Shadows Die Twice - GOTY Edition
Activation: Microsoft Store
Product type: Activation code
Activation (use) region: Argentina
Platform: XBOX ONE, XBOX SERIES X|S

This Game of the Year Edition now includes bonus content*: - Reflection and Gauntlet of Strength - new boss challenge modes - Remnants - leave messages and recordings of your actions that other players can view and rate - 3 unlockable cosmetic skins Game of the Year - The Game Awards 2019 Best Action Game of 2019 - IGN Metacritic Must Play Over 50 awards and nominations Carve your own clever path to vengeance in the critically acclaimed adventure from developer FromSoftware, creators of the Dark Souls series. In Sekiro™: Shadows Die Twice you are the ´one-armed wolf´, a disgraced and disfigured warrior rescued from the brink of death. Bound to protect a young lord who is the descendant of an ancient bloodline, you become the target of many vicious enemies, including the dangerous Ashina clan. When the young lord is captured, nothing will stop you on a perilous quest to regain your honor, not even death itself. Explore late 1500s Sengoku Japan, a brutal period of constant life and death conflict, as you come face to face with larger than life foes in a dark and twisted world. Unleash an arsenal of deadly prosthetic tools and powerful ninja abilities while you blend stealth, vertical traversal, and visceral head to head combat in a bloody confrontation. Take Revenge. Restore Your Honor. Kill Ingeniously. *Download required. Internet connection required for asynchronous Multiplayer. ©2019-2020 FromSoftware, Inc. All rights reserved. Published and distributed by Activision. ACTIVISION is a trademark of Activision Publishing Inc. All other trademarks and trade names are the properties of their respective owners. Dark Souls is a trademark of BANDAI NAMCO Entertainment Inc. Bandai Namco is not the publisher of SEKIRO: SHADOWS DIE TWICE. Activision has no affiliation with Dark Souls./attention
When you leave positive feedback, it not only helps us become better, but gives you a discount for your next purchase!deliveryActivation:
1) Instruction for activating using PC:
Download free extension Hola VPN
Follow this link:
https://redeem.microsoft.com
Enable Hola VPN and select Argentina region.
Enter the key and activate the game.
2) Instruction for activation using smartphone without VPN (if this doesn't work – use the instruction above)
Make sure you are connected through 3g or LTE network, not WIFI.
Follow this link:
https://redeem.microsoft.com
Enter the key and activate the game.
✅ IMPORTANT: the keys must be activated immediately after purchase. Warranty at time of sale.
Replacement and refund policy:
To receive a refund for any problem with the code, you must start recording the video ON THE PHONE and display the moment of payment and the moment of activating the code on it - WITHOUT ANY KIND OF EDITING, this should be one video. If we see that the code was already activated before or there are some other problems we will make a replacement. If it's impossible to replace the product – we will make a refund./delivery