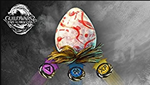 Content includes:
- Item booster
- Experience booster
- Karma booster
- 10-bag slot
- Random mini pet

Follow these instructions to redeem your content:
Log in to Guild Wars 2 using the account you want to unlock content from.
Once in the game, open the Black Lion Trading Company panel. (The default hotkey is "O", or you can click the lion icon in the upper left corner of the game screen.)
Click the Redeem Code link in the upper left corner of the store home page.
Click Redeem Product Code.
Enter the product code in the "Enter code" field.
Click "Redeem" to get your content!
Please note: When using item codes, the item is usually sent via email in-game, which should be delivered as soon as the code is redeemed.