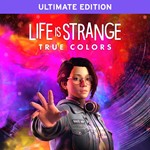 💳 If you want to PAY WITH A BANK CARD, select the payment method Enot.io [minimum commission] 🦝

🌟 BEFORE PURCHASING, READ THE FULLY DESCRIPTION AND RULES TO THE PRODUCT.

❗️ You are purchasing a Shared Account, it may require a permanent Internet connection and Account.
❗️ During the game, "disconnections" and "logout" from the gameplay are possible. Any claims in this case will not be accepted.
❗️ System updates of the console, which may affect the operation of the Shared Account, are independent of the seller.

💬 Questions you are interested in, it is better to ask before buying!

♾️ Access to the purchased account remains forever [following the rules]

❤️ More than 3 years in the digital goods market
🚀 Instant Email Delivery
👍 Guaranteed technical support
🎁 CASHBACK for review

🎮 Account for consoles XBOX ONE X|S & XBOX SERIES X|S with games:

📓 Publisher: Square Enix
🔎 Category: Action & Adventure
📆 Release date: 09.09.2021

🎮 Life is Strange: True Colors — Ultimate Edition [GB]
📄 Text: RUS | ENG • 🔊 Voice: ENG • 🔤 Subtitles: RUS | ENG
📝 Game Description: Alex Chen hides from everyone his "curse" - the supernatural ability to read the strong emotions of others and influence them. But when her brother dies - ostensibly in an accident - Alex uses her to find out the truth ... and uncover the secrets of the past.
📌 RULES:
◾ We will resend the security code only if we change the password on the Account!
◾ If you want access to our Account to remain forever, log in to it once every 2-3 weeks if you are not playing.
◾ After payment, you will instantly receive a licensed game [login and password from the Account with the game].
◾ You do not buy an account for full access, you buy access to the Account and to the game itself. Consider this when buying.
◾ This is a Shared Account. ONLINE GAMES AND ADD-ONS MAY NOT WORK, the seller is not responsible for this. If you only want to play a multiplayer game, the Shared Account will not suitable for you. If you are interested in the availability of add-ons, check with the seller for their performance before buying.
◾ The account works on consoles XBOX ONE X|S / XBOX SERIES X|S [You do not have access to the website Xbox.com].
◾ Any attempt to login from another device will result in a denial of service.
◾ By purchasing an Account, you automatically agree with the information and rules.

⛔ FORBIDDEN:
◾ Play from the purchased Account;
◾ Delete purchased Account;
◾ Login on any device other than the XBOX ONE X|S / XBOX SERIES X|S console;
[Any attempt to login from another device will result in a denial of service.]
◾ Try to change any data on the Account;
◾ Use an Account on more than one console;
◾ RESALE / EXCHANGE / TRANSFER data from the Account to third parties;
◾ Disseminate data on any social networks.
[For violation of these rules, you will lose access to our account without a refund! Also in technical support for any questions you will be REFUSED!]

✔️ We will REPLACE your product if:
◾ The login/password is incorrect;
◾ The product does not match the description.

❌ Replacement of goods is IMPOSSIBLE if:
◾ Bought "By Mistake" the wrong product;
◾ Violated the RULES;
◾ I didn't like the game on the profile;
◾ Didn´t read the description before buying;
◾ "Disconnections" occur during the game.

✔️ HOW TO LOGIN AND INSTALL THE GAME:
00] Before entering login and password please contact us and wait for a response!
01] Press the "GUIDE" button;
02] Select "ADD NEW";
03] Enter the received data (login and password);
04] "Is it really you?" ➤ "Next";
05] Enter the security code that the seller will send you and click "Next";
06] "Use of your data" ➤ "Next";
07] "Move to the level up in the game" ➤ "No thanks";
08] "When sending data to publishers" ➤ "Next";
09] "We found your last Xbox account settings. Do you want to apply them now? " ➤ "Thank you, don´t";
10] "Login Options and Security" ➤ "NO BARRIERS";
11] "How do I enter?" ➤ "Skip";
12] "Did you receive the code?" ➤ "I have not";
13] After you find yourself on the main screen;
14] "My games and applications" ➤ "Full library" ➤ "All my own games", select the game, press "A" ➤ "Install all" and wait until the game is fully downloaded.
15] The purchased Account is not deleted, enjoy the game!

✔️ HOW TO START THE GAME:
◾ Enter the purchased Account;
◾ Switch to your personal account;
◾ Enter the game;
◾ Play.
◾ The game will have your gamertag from your Xbox Live profile, save and achievements will be tied to it.
◾ The purchased Account is not deleted, enjoy the game!

⚠️ [If there are more convenient ways to launch the Games, we will provide them after purchase, also on the page of the paid product is available "Instructions for use"]