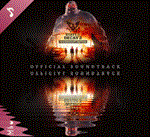 ✅✅✅ IF YOU HAVE PAYMENT PROBLEMS, USE THE PAYMENT GATEWAY 🦝ENOT OR 💸FREEKASSA (THERE ARE SUPPORT FOR 💳CARDS, 🟪YUMONEY, 🟧QIWI AND OTHERS)!
⚡ IMMEDIATELY AFTER PAYMENT YOU WILL RECEIVE A KEY TO ACTIVATE THE DLC IN STEAM WITHOUT REGIONAL RESTRICTIONS!
🌎🌎🌎 (REGION FREE / WORLDWIDE / ROW)
🧷🧷🧷 THE DLC IS FOREVERLY LINKED TO YOUR STEAM ACCOUNT!
NAME: State of Decay 2 Two-Disc Soundtrack
DEVELOPER: Undead Labs
PUBLISHER: Microsoft Studios Music
RELEASE DATE: Mar 17 2020
Music from State of Decay 2 will help you plunge into the atmosphere of the post-apocalypse. The set of two discs includes the original music score for the game that was released in May 2018 and 24 new songs - for a total of two and a half hours of fun.
🎁🎁🎁 GIFT CERTIFICATE AND RANDOM STEAM GAME (IF YOUR PURCHASE IS MORE THAN 1.5$) FOR POSITIVE FEEDBACK!
🌎🌎🌎 This product has no regional restrictions!
⚙️⚙️⚙️ Activation:
1. Install the Steam client - https://store.steampowered.com/about/ (if not installed);
2. Log in to your Steam account or create a new one;
3. In the Steam client at the bottom left, find "ADD GAME => Activate via Steam ...";
4. Enter the digital product 🔑key to activate it.
⭐⭐⭐ More games at the lowest prices: https://irongamers.ru/sale/seller/745445
/delivery