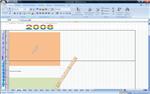 This calendar, diary created on EXEL, size 1072Kb. The structure of the calendar is useful for record-keeping and to plan for any graphics, such as graphs return to work. Record this diary important events, birthdays, friends, do their calculations otusknyh days and others. Especially need this calendar, diary those already engaged in the normal way, perepeshite all entries in this calendar, diary, set your password and your recording no but you do not read.
Instructions for use.

Password to open 1111

You must change the password in the menu Tools / Options / Security.

Your password, you must know by heart.

Do not use too easy passwords.

Change your password, record it somewhere in a secluded place.

If you forget your password, all your records will be available!

On the holidays are recorded only those events, which have a fixed date.

Make backup copies of your diary.

Keep a diary file in a computer with no Internet connection, or on a flash drive.