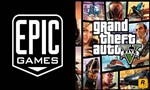 ✔ After payment, you will receive a Grand Theft Auto 5 account in Epic Games.
✔GTA V
✔Epic Games account


⭐️Brand new accounts.
⭐️All accounts were created by me personally, without bans and previous owners.
⭐️You are purchasing an account to a personal account from Epic Games with a purchased game GTA V Online mailbox.
⭐️The product is provided as :email_password/epicgames_password
⭐️Email is the Epic Games login.
⭐️The passwords for the mailbox and Epic Games are the same.
👉 Go to the official website https://www.epicgames.com/store/en/download
👉 Click the "Download Epic Games Launcher" button
👉 Install the Epic Games Store
👉 Enter the received mail and password in the Epic Games Store program
👉 Download the game in the "Library" tab by clicking the "Download" button.
👉 Launch the game from the library.

❗️ All accounts were registered and checked for games by me personally.
❗️ Return of goods for reasons "could not log in" or "did not read the description", etc. , is not produced.
❗️ After receiving the goods, the buyer is fully responsible for changing the data and the safety of the goods, since I cannot control your actions with it