Content: text (174 symbols)
Available: 23
Uploaded: 22.05.2022

Positive responses: 14
Negative responses: 0

Sold: 66
Refunds: 0

Seller: CoolCha4205

Loyalty discount! If the total amount of your purchases from the seller more than: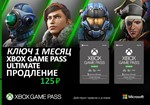 After payment, you will receive an activation code for Xbox Game Pass ULTIMATE. The activation code will be sent to your email immediately after payment. More detailed information about the product will be presented below.
This subscription IS SUITABLE for renewing or converting subscriptions on a NEW or OLD account provided that you have no active subscriptions.

🧾You need to activate the key here: https://redeem.microsoft.com
To activate the key, you need to add a card, when the key is activated, the card will be checked. After activation, simply delete the card.
I give the card along with the key, there is also a video instruction for activating the code. 2 minutes and the subscription is ready!
Xbox Game Pass Ultimate is a new offering from Microsoft that includes three subscriptions: Xbox Live Gold, Xbox Game Pass and EA Play, plus the new Xbox Game Pass on PC. The library of available games is constantly updated and today it includes 333 projects, of which 253 games are available on Xbox One and 380 games on PC for free! Every month 4 games for free!