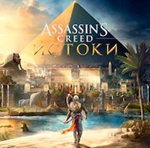 Assassin´s Creed Origins



Instruction:

1. Go to the site https://account.sonyentertainmentnetwork.com/login.action

2. Enter the data of the purchased account login:pass (mail:password)

3. Select the item "Account" or "Account" at the top

4. On the left in the menu, select the item "Media and devices" or "Media and devices"

5. On the main part of the page, click on the rectangle on the "Deactivate All" or "Deactivate All" button.

Setting up an account on a PS5 console:

(before logging into your PS5 account, please read the "ALTERNATIVE DOWNLOAD if you get kicked" section in advance to know what to do if you get kicked out of your account)

1. Create a new user (not as a guest) For PS5, select START

2. Go to the library and download the game(s)

3. Exit the purchased account (hold down the PS button on the joystick-power-logout), select your personal account and go to it.

After downloading the games, you can play.

ALTERNATIVE download if you are kicked out of your account:

(do not try to login again and do the following steps immediately)

1. We go to the site https://store.sonyentertainmentnetwork.com/#!/

2. Enter the data received from the account type mail: pass

3. Click on the user´s nickname and select the 5th line from the top - DOWNLOAD LIST

4. You went to downloads, where you can put games on download, and they will automatically be added to your console, press the button next to the game you want to download

5. After you put it on the download, exit the site.

P.S this method should be used as soon as you are kicked out of the console

Important:

- Account must be used immediately after purchase

- Do not re-enter the purchased account, play only from your personal account

- Do not delete purchased account from PS5

- Do not change any data on the purchased account

- If you want a 100% guarantee against locks (gatherings of games) - disconnect your PS5 from the Internet after downloading the games.



• Upon purchase, it is MANDATORY to shoot a video "from the moment of purchase to the moment of checking the account through the site !!!" if the account is not valid / password change / no deactivation - and you do not have a video - replacement / moneyback does not take place! The account is non-refundable (Replacement only if not valid).

• Please do not leave negative feedback before communicating with the seller.