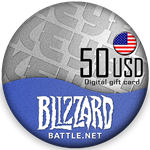 50 USD Gift-Card to replenish the balance on Battle.net (USA Region)
This code is intended for an account in which the country is the United States and the currency is dollars (USD).
❗0% commission when paying by card!
⌛ Instant delivery to your email!
👍 We´d love your feedback!
Digital keys purchased by mistake (due to inattention) cannot be returned or exchanged.
/delivery
How to activate the key - https://eu.battle.net/shop/en/product/balance
Other card denominations:
🔰 Blizzard Gift Card 💠 5 USD (USA Region) - https://irongamers.ru/sale/key/3427594
🔰 Blizzard Gift Card 💠 10 USD (USA Region) - https://irongamers.ru/sale/key/3365281
🔰 Blizzard Gift Card 💠 20 USD (USA Region) - https://irongamers.ru/sale/key/3369043
🔰 Blizzard Gift Card 💠 50 USD (USA Region) - https://irongamers.ru/sale/key/3369046
/delivery