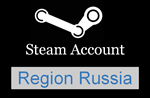 You will be the first owner of this account.
Account currency: Russian rubles (RUB)
The account is limited.
To access the trading platform, you need to replenish the balance by $5
Read more: https://support.steampowered.com/kb_article.php?ref=3330-IAGK-7663
After payment you will automatically receive:
Login and password from the first mail.
Login and password (like mail) from the Steam account.
There are no game locks, phone bindings and games on the account.

How to change email:
1) Start the mail change procedure. When there is a message from Steam asking you to enter the code from the old mail, go to the site that you received after payment.
2) On the site in the "Steam login" field, insert the LOGIN of the Steam account that you received after payment.
3) On the site in the "Email" field, insert the MAIL of the Steam account that you received after payment.
4) Click on the "Get Code" button and you will receive the code that came from Steam. Copy this code and paste it into the appropriate field.
1. Can I link (Family Library Sharing) my Steam account to my Russian Steam account?
💡Yes. If you have an existing account, you can link it to a Russian Steam account. All games on both accounts will be available without switching accounts.

2. How do I deposit money on Steam?
💡 Buy a Steam Wallet Card that supports activation in Russia.
💡For the second and subsequent deposits, you can use "Electronic Gift Cards" (those that can be bought on Steam). And give them from an account registered in your local currency and pay with local payment methods
💡🔴You can´t top up your Russian account directly with bank cards or PayPal!