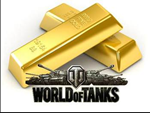 attention1,000 gold World of Tanks for PC version through a gift from the official Premium store of the game For more gold, click on " " in the field "product quantity" before buying
Server RU/EU
Gold is an in-game currency that allows you to use additional services. For in-game gold, you can:
purchase a premium account;
convert experience earned on vehicles with an elite status into free experience;
train the crew to the level of a tank academy or a front-line aviation regiment or retrain it without losing experience;
purchase premium equipment;
purchase additional slots in the Hangar;
expand the Barracks;
dismantle complex equipment for use on other machines;
change crew documents;
apply camouflage, emblems and inscriptions (WoT) / decorations on the nose (WoWP) to vehicles;
create a clan in World of Tanks;
change your game name.
In addition, if necessary, gold can be converted into loans.

Before buying, enter your name (nickname) in World of Tanks.

After payment within a few hours (during the daytime) you will receive 1,000 gold as a gift.
You need to accept the gift on the website of the official Premium store.

As a bonus, each buyer will be provided with a promotional code for the purchase of a tank premium for 30 days.
After paying for the goods, you will receive a unique 16-digit purchase PIN code, which
MUST NOTIFY THE OPERATOR using your preferred form of communication: online chat (the chat button looks like "ask a question".
To receive the goods you need to contact (!) with the seller. You do not need to leave contacts in the information for the seller and wait for the seller to contact you.
To pay with a minimum commission, select the payment method Enot.io
For any questions, please contact the seller. Operator during daytime online. There may be delays in response up to 30 minutes.