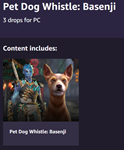 Dog Whistle: Basenji

This offer includes Pet Whistle: Basenji, a new toy that allows you to summon a basenji companion that you can interact with. You must redeem the Pet Dog Whistle: Basenji by December 31, 2022; otherwise it will expire.
How do I claim my item in Guild Wars 2?


To redeem the Pet Dog Whistle: Basenji code, first you will need an ArenaNet Account.

1) Sign into your Account Management Page using your ArenaNet account.

2) Click the "Redeem Code" on the 'Overview' page.

3) Enter or copy and paste your code into the "Enter Registration Code" field.

4) Hit Submit to redeem the code and add it to your account.