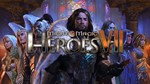 Region Eu

Release date: 09/29/2015

Our story takes place during a war of succession. The assassination of the empress has left the kingdom in flames, and many hungry rivals are ready to seize the throne by force. Duke Ivan then convenes a prestigious council of six trusted advisors to restore order and end the conflict that has set fire to the lands of Ashan.


Might & Magic Heroes VII makes a triumphant return, bringing you the essence of turn-based strategy. You will embark on a journey you will never forget in a fantasy universe with role-playing progression and strong storytelling!

Functions
Explore and conquer the enchanted world of Ashan
Grow and manage your economy
Lead armies of legendary creatures into battle
Create Heroes of Might & Magic with hundreds of abilities and powerful artifacts.


Activation

If you don´t have the Uplay client installed, download and install it.
Sign in to your Uplay account or sign up for a new one if you don´t already have one.
To activate the code in Uplay, click on the image of three horizontal lines in the upper left corner and select "Activate product".